Programs
We're improving the health of babies in our state.
Our programs support moms-to-be and professionals.
We offer comfort to families with a newborn in intensive care.
Supporting moms all throughout their pregnancies.
We give moms the information and care they need before, during and after pregnancy. If something goes wrong, we support families in the NICU. Learn more about some of our community programs below.
Teddy Bear Den Program
What is it? The Teddy Bear Den is an incentive program sponsored by the Utah chapter of March of Dimes that provides free baby care products to low-income pregnant women as incentives to practice healthy behaviors throughout their pregnancies.
The Teddy Bear Den is located at the Oquirrh View Clinic 4745 So. 3200 W., Taylorsville, UT; at Valley View Medical Center, 1303 North Main St., Cedar City, UT; and at the Midtown Community Health Clinic 2240 Adams Ave., Ogden, UT.
 How Does it Work? Teddy Bear Den clients earn points toward items, such as diapers and infant clothing, through a variety of positive, health promoting activities: attending prenatal care appointments, participating in prenatal education classes, earning a GED, not smoking, breastfeeding, etc.
 Why Is This Program Needed? Donated items help alleviate the significant financial bur-dens placed on low-income pregnant and parenting women by providing them with the baby care items they could not otherwise afford. The Teddy Bear Den program also furthers the mission of March of Dimes by encouraging women to receive adequate prenatal care, an essential step in protecting against birth defects, premature birth, and infant mortality. 
How Can I Help? We depend on items donated by community groups to stock the Teddy Bear Den. Interested groups can host a baby shower/diaper drive and collect items to be used at the Teddy Bear Den. Collecting donations of baby items for the Teddy Bear Den is a great Eagle Scout project, school service project, church group, book club or neighborhood project.
 Call the March of Dimes office at 801-327-9464 for more information.
 Items that are needed for the Teddy Bear Den
·          Baby diapers, any brand, sizes newborn to 5

·          Baby wipes, any brand or size

·          Hygiene items such as baby shampoo, lotion, powder and diaper rash cream

·          New clothing in sizes 0-24months

·          Baby blankets, any size or material; bibs and burp cloths

·          Socks, shoes, and sleepers (newborn to 24 months)

·          Coats, jackets, mittens (newborn to 24 months)

·          Care items such as brushes, diaper bags, and nail clippers,

·          Accessories such as bottles, toys, sippy cups, spoons, and pacifiers
 We can not accept donations of formula, food, or used items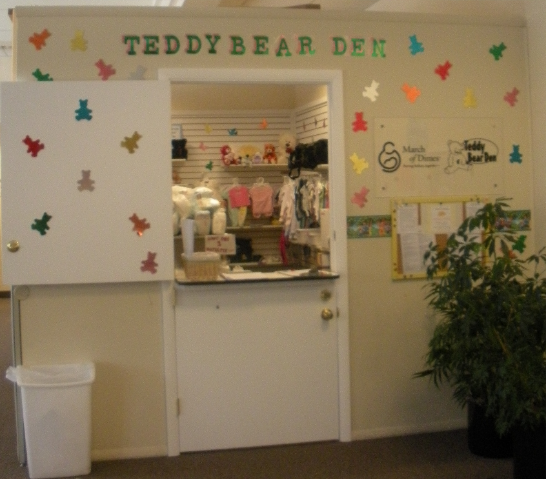 NICU Family Support Program at the Intermountain Medical Center
When a baby is born too soon or very sick and starts life in the newborn intensive care unit (NICU), the March of Dimes is there to support the family. One in every 10 babies born in the United States is admitted to a NICU. Some babies spend just a couple of days, others many long months. Having a baby hospitalized in a NICU can be frightening, confusing and overwhelming. NICU Family Support offers information, education and comfort. We enhance family-centered care practices in partner hospitals to address the needs of families and provide professional education to NICU staff. Through our Kangaroo Care program we help parents establish skin-to-skin holding with their tiny baby to help them feel more involved and to bond with their tiny, sick infant.
Healthy Babies are Worth the Wait
Healthy Babies are Worth the Wait (HBWW) is a preterm birth prevention initiative with a focus on "preventable" late preterm birth. Through partnerships and collaborations between hospitals, health departments and community organizations, HBWW provides education for pregnant patients, health care providers and the greater community to understand the problem of preterm birth and what measures can be taken to reduce the risks of it occurring.

Find more
Give to help
Help more babies in Utah start life healthy and strong.
Donation amount: