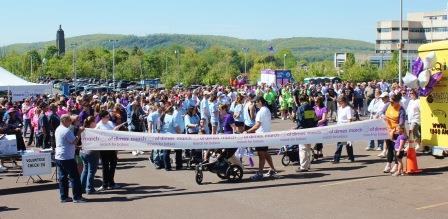 March for Babies - Susquehanna Valley 2014

Date:
Time: 10:30AM
Registration Time: 9:30AM
Geisinger Medical Center
100 N. Academy Avenue
Danville, PA 17821

Welcome to March for Babies Susquehanna Valley! We meet in the parking lot at Geisinger Medical Center for an inspirational launch by our March for Babies 2014 Honorary Chair Lynn Miller! The walk leaves from Geisinger Medical Center, continues through the surrounding neighborhood and wraps up back at the parking lot where music, activities and lunch will take place. We will hold our annual T-shirt contest and new for 2014 is the Stroller/Wagon Decorating Contest!

March for Babies is our biggest fundraising event of the year, the money you raise supports programs in your community that help moms have healthy, full-term pregnancies. And it funds research to find answers to the problems that threaten our babies.

Registration will be available from 9:30-10:30am. Walk program will begin 15 mins prior to step-off at 10:15am. Those teams participating in the T-shirt contest and/or Wagon/Stroller Decorating Contest must have their entries completed prior to step-off at 10:30. Judging will take place during the walk.

If you would like to volunteer to help us prepare for, day-of, in the days after March for Babies or any other time during the year, please contact: Kerri DiDario, Community Director, NEPA Division 610-814-7000 or via email kdidario@marchofdimes.com.

Directions & Parking: From Interstate 80, take Danville exit #224. Head east on Continental Blvd for 2.8 miles. Turn right onto Bloom Street (Route 11) and stay in the left lane. Follow Bloom Street as it branches off to to the left for.7 miles. Turn left onto Academy Ave and follow signs for the Parking Garage. Please park in the Parking Garage.