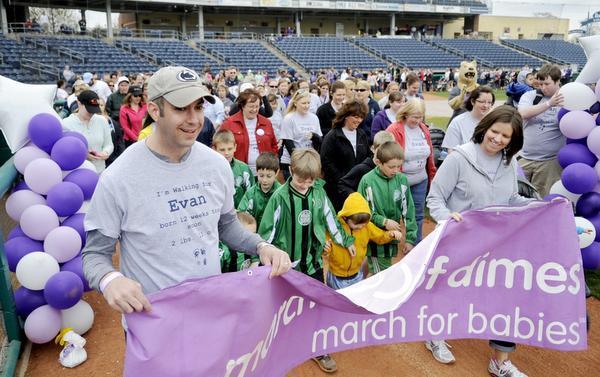 March for Babies - State College 2014

Date:
Time: 1:00PM
Registration Time: 12:00PM
Medlar Field at Lubrano Park
Penn State University
State College, PA 16802

Welcome to the March for Babies State College! Come join us as we celebrate together the many goals we have achieved. Activities and entertainment for walkers of all ages are offered at the event. Take part in the festivities and participate in the walk at Medlar Field at Lubrano Park, home of the State College Spikes.

March for Babies is our biggest fundraising event of the year, the money you raise supports programs in your community that help moms have healthy, full-term pregnancies. And it funds research to find answers to the problems that threaten our babies.

Registration begins at noon and step-off is at 1 p.m. Walk festivities will take place during registration and continue throughout the event.

Dogs are welcome to join. Owners are asked to pick-up after their pets.

The walk route offers shorter route options.

The stadium is accessible for those with disabilities.

If you are turning in funds or qualify for an incentive shirt that you have not yet secured, please check in at the registration area upon arrival. Print and bring online sponsor forms if applicable. Team Captains are encouraged to collect team funds prior to the event and submit them at the registration area in brown envelopes provided.

Refreshments and a healthy snack will be provided at the walk, including bottled water that will be made available throughout the day.

If you would like to volunteer to help with preparation prior to, on the day-of, or after the March for Babies event, please contact the March of Dimes Central PA Division at (717) 260-3400.

Directions & Parking: Medlar Field at Lubrano Park, University Park, PA 16802. The field is located near Beaver Stadium and is easily accessible from US-322.

Parking will be provided at no cost to volunteers or participants. Attendants will be directing traffic.