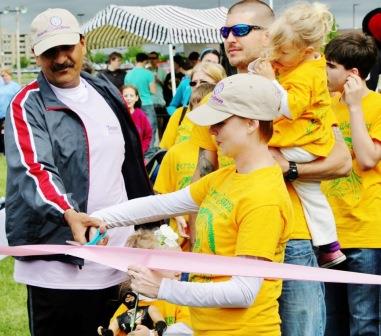 March for Babies - Northeast 2014

Date:
Time: 10:30AM
Registration Time: 9:30AM
Kings College Betzler Field
221 Highland Park Boulevard
Wilkes-Barre, PA 18702

Welcome to March for Babies Northeast Pennsylvania! We will meet at the starting line which will be held in front of the track entrance on Betzler Field in Wilkes-Barre PA. Here we will have an inspirational launch by our March for Babies 2014 Chair Jerry Palmaioli. The walk will consist of 8 laps around the track and we will end the day with some fun games and snacks. Don't forget about our annual T-shirt contest!

March for Babies is our biggest fundraising event of the year, the money you raise supports programs in your community that help moms have healthy, full-term pregnancies. And it funds research to find answers to the problems that threaten our babies.

Directions from Interstate 81: Take exit 168, Highland Park Boulevard. As you are proceeding down the exit ramp, you will see the Mohegan Sun Arena at Casey Plaza on your right. At the end of the exit ramp, turn left onto Highland Park Boulevard. Continue on Highland Park Boulevard. Betzler Fields will be on your left.

Parking: Free Parking and also handicapped parking

If you would like to volunteer to help us prepare for, day-of, in the days after March for Babies or any other time during the year, please contact: Ashley Fulmer at afulmer@marchforbabies.com or 570-829-1019.