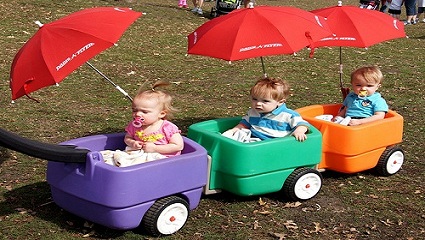 March for Babies - Minneapolis/St. Paul 2014

Date:
Time: 11:00AM
Registration Time: 9:30AM
Mall of America
1199 Midway Pkwy
St. Paul, MN 55103

The Twin Cities will come alive April 26 with joy and hope when thousands of families join March for Babies! Expect fun, food and entertainment all while helping babies! <p>
If you've collected any checks or cash donations, we have a collection day on Bank Day, Thursday April 24. We're turning Bank Day in to a celebration! Join us for food and fun. Everyone who wears a vintage March for Babies or team t-shirt will win a prize! Bring the kids – we'll have games and balloons.

Bank Day will run from 7:00 am to 7:00 pm at our March of Dimes office in Edina at 5233 Edina Industrial Boulevard, Edina, MN 55439. Remember to print off your online sponsor form if you have donations. Also, please keep each team members cash and checks divided up so we can credit the appropriate team member.
<p>
More than 5,000 people will join us at March for Babies at Como Park and we encourage you to arrive early. Shuttle buses will be available from the parking lot near the State Fair. Street parking and other public lots are available. <p>
 
Shuttle buses will begin running at 9:00 am and should be arriving in approximately 15 minute intervals. All shuttles will run until 2 pm. The March for Babies program will begin at 10:40 with the walk beginning at 11:00 am. We walk rain or shine (or snow)!<p>
We encourage large groups, families with strollers and people with pets to drop off your party at the Como Conservatory. Pets are not allowed on the buses. Also please note Como Zoo will not allow pets or balloons inside the Zoo, so plan a trip back to your car if you would like to keep the balloon and visit the Zoo following the walk.
 
Registration will open at 9:30 am at Como Park. You can turn in cash/check donations at Registration. If you do not have money to turn in, you do not need to go to registration.<p>

New this year we will be handing out March for Babies T-shirts near the Registration area. Remember, t-shirts are only available to walkers who have reached the $200+ mark. <p>

We'll have fun, family entertainment including music by All-Time Favorites, face painting, crafts and lots and lots of games. Children can jump around in our inflatables and meet their favorite characters. Water is provided by Culligan and coffee is courtesy of Starbucks. <p>
 
Enjoy fruit from Wholesale Produce; lunch and snacks are courtesy of Barrel O' Fun, Angie's Kettle Corn, Mondelez International, General Mills and Snyder's-Lance.<P>
Give us a call at 952-835-3033 if you have any questions! We're here to help. Let's march for healthy babies!