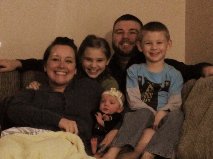 March for Babies - GIBSON COUNTY (Princeton) 2014

Date:
Time: 2:00PM
Registration Time: 1:00PM
Gibson County 4H Fairgrounds
N Embree Street
Princeton, IN 47670

2014 Gibson County Walk Fact Sheet
Gibson County Fairgrounds May 4, 2014

What is March for Babies?
March for Babies is the walk that saves babies! As the March of Dimes biggest fund-raiser, March for Babies supports research and programs to help prevent or treat premature birth, birth defects and other threats to babies' health. Since its beginning in 1970, March for Babies has raised more than $1.8 billion to help give babies a fighting chance. Thanks to you, locally in 2013 we raised more than $15,000!. The walk keeps growing thanks to the generosity of the Tri-State!

How big is March for Babies?
Now in its 43nd year, nationally the March for Babies is expected to draw nearly half a million walkers. Overall, more than 8.5 million men, women and children participated as sponsors, volunteers and walkers in the year 2013. Locally we look for as many as 3500 to walk with us in 2013.

What is the March of Dimes?
It's the nonprofit health organization that's leading the way in the fight against prematurity! Nearly half a million babies are born prematurely every year — and the number is increasing. March of Dimes lifesaving research is seeking causes and treatments for prematurity and birth defects. Log Onto our website at www.marchofdimes.com and learn more about the March of Dimes. Our advocacy efforts in state and federal government are making it possible for more parents to get health coverage and care for their babies and children. And our educational programs are letting women know about the signs of preterm labor and what to do if they have them. With your support, we will reach the day when every baby can be born full term and healthy.

How are the funds raised in March for Babies used?
The March of Dimes spends 77 percent of the money raised in March for Babies on research and programs that promote the health of babies. By walking and raising money, you help us:
• Support all-important research offering preventions and solutions for babies born too soon or with birth defects
• Fund programs in your community that give moms-to-be the best chance of having a healthy baby
• Provide comfort and information to families with a baby in intensive care
• Advocate for newborn screening, and health insurance for all pregnant women and children





How can people get involved in March for Babies?
Call the local March of Dimes office at 812-266-6005 or log onto the www.marchforbabies.org you will learn about the March of Dimes and its important mission to save babies. Get involved by raising money and 1) walk as individual; 2) walk as part of a team; 3) be invited by family, friends or business associates to participate; or 4) volunteer their time to register walkers, staff checkpoints and offer refreshments. Walkers ask friends, family, business associates and others to sponsor them by making a donation to help the March of Dimes save babies. Family Teams raise money and walk in honor of a baby directly affected by the March of Dimes mission.

How do people register for March for Babies?
Visit www.marchforbabies.org to join, start a team or donate. You may also call 1-800-923-9255. Or register through your company or organization to participate as a team member. You can start your own team. If you register online, you can use our Online Fund-raising Tool (OFT) to ask everyone you know to sponsor you. It's quick, easy — and you'll raise more money.



Join us at GIBSON COUNTY (Princeton), Princeton!
Join a team or start your own. We look forward to seeing you there!
Main Gibson County 4H Fairgrounds Entrance. Call Ashley Murray at 812-266-6005 or email her at amurray@marchofdimes.com for more information.
Other locations: