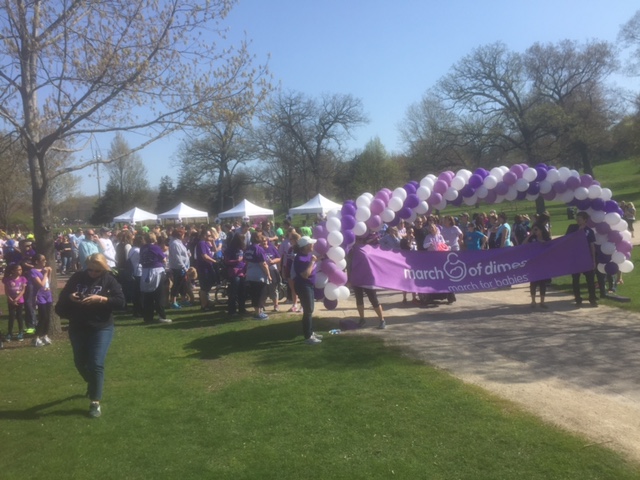 March for Babies - Fox Valley 2015

Date:
Time: 12:00PM
Registration Time: 11:00AM
Pottawatomie Park
8 North Ave
St. Charles, IL 60174

Advocate Sherman Hospital's CEO Linda Deering Chairs this year's March for Babies Fox Valley in St. Charles. Advocate Sherman Hospital and March of Dimes hope you will join us in building funds to lower infant mortality, birth defects, and prematurity right here where we all live...the Fox Valley Area. We have wonderful stories of triumph over prematurity right here in Kane County! Our national Ambassador [Elijah Jackson] lives a very active life with his mother and father in Elgin. Born early at 25 weeks and 1 day in 2002, weighing just over 1 pound and measuring 11 inches long, Elijah Jackson spent 7 months in a newborn intensive care unit (NICU). He pulled through after surgery to close a duct between his heart and lungs, a tracheotomy and a procedure to correct reflux disease. He also received surfactant therapy, developed in part with funding from the March of Dimes, to strengthen his tiny lungs. When he left the hospital, he needed a ventilator and oxygen for 2 more years. Today, Elijah is a happy, healthy 12-year-old boy who enjoys school and is an avid sports fan. He is serving as the 2015 National Ambassador with his parents, Elise and Todd Jackson. Our local connections don't stop with Elijah, please move down this page to see more about our local Ambassador Family [The Schavers]! Please help us to reduce [one day end] the number of premature births, birth defects, and infant mortality...make a difference in your neighbor's life...help save a baby...come out and MARCH FOR BABIES!