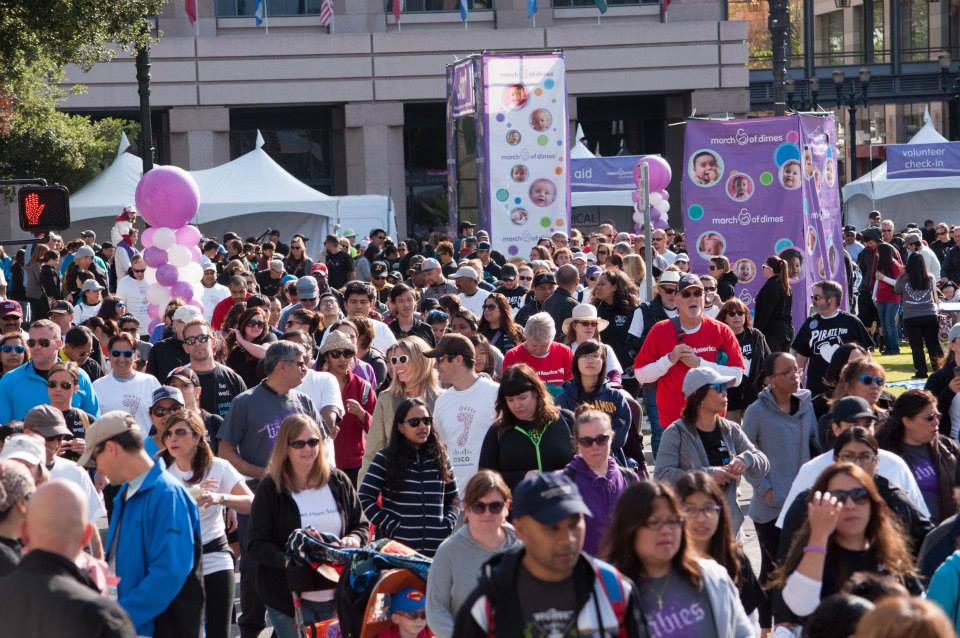 March for Babies - Silicon Valley 2015

Date:
Time: 9:00AM
Registration Time: 8:00AM
History Park, San Jose
S. Market St. & W. San Carlos St.
San Jose, CA 95113

March for Babies is on Rain or Shine!
Your March for Babies event will take place rain or shine.
We look forward to seeing you there on behalf of the moms and babies.
Put your walking shoes on and join all the teams and individuals who care about stronger, healthier babies!
Premature and sick babies still need our help, so remember to bring your sponsor form. If you have donations from family, friends and co-workers, we will be on hand to collect them for you.
If you are unable to attend, keep the cash and checks in a safe place and call our office to make arrangements to collect your donation.
Thank you for being a part of March for Babies and for giving hope to families everywhere!

Welcome to the March for Babies, Silicon Valley! Come join our Chair, Chris Boyd, Senior Vice President and Area Manager of Kaiser Permanente and their teams in a sunny, fun-filled day! We will join together at the Plaza de Cesar Chavez in downtown San Jose at S. Market Street and W. San Carlos. We will continue on a three mile walk down to Almaden Blvd., around to St. John and over to San Fernando. We will join back at the Plaza for entertainment, food and fun!

March for Babies is our biggest fundraising event of the year and the money you raise supports programs in your community that help moms have healthy, full-term pregnancies. There will be family teams, company teams and friends walking together to help fuel our mission. Come join our event and walk with us to raise money for babies right here in our community!

Special Notes:
• All March of Dimes events are smoke-free to protect the health of everyone, especially babies.
• Our walk will take place along public paths so please follow pedestrian rules and stay on the path at all times.
• Dogs are allowed but must be kept on a leash at all times.
• Parking is available in a number of City lots that have reduced parking for the day.