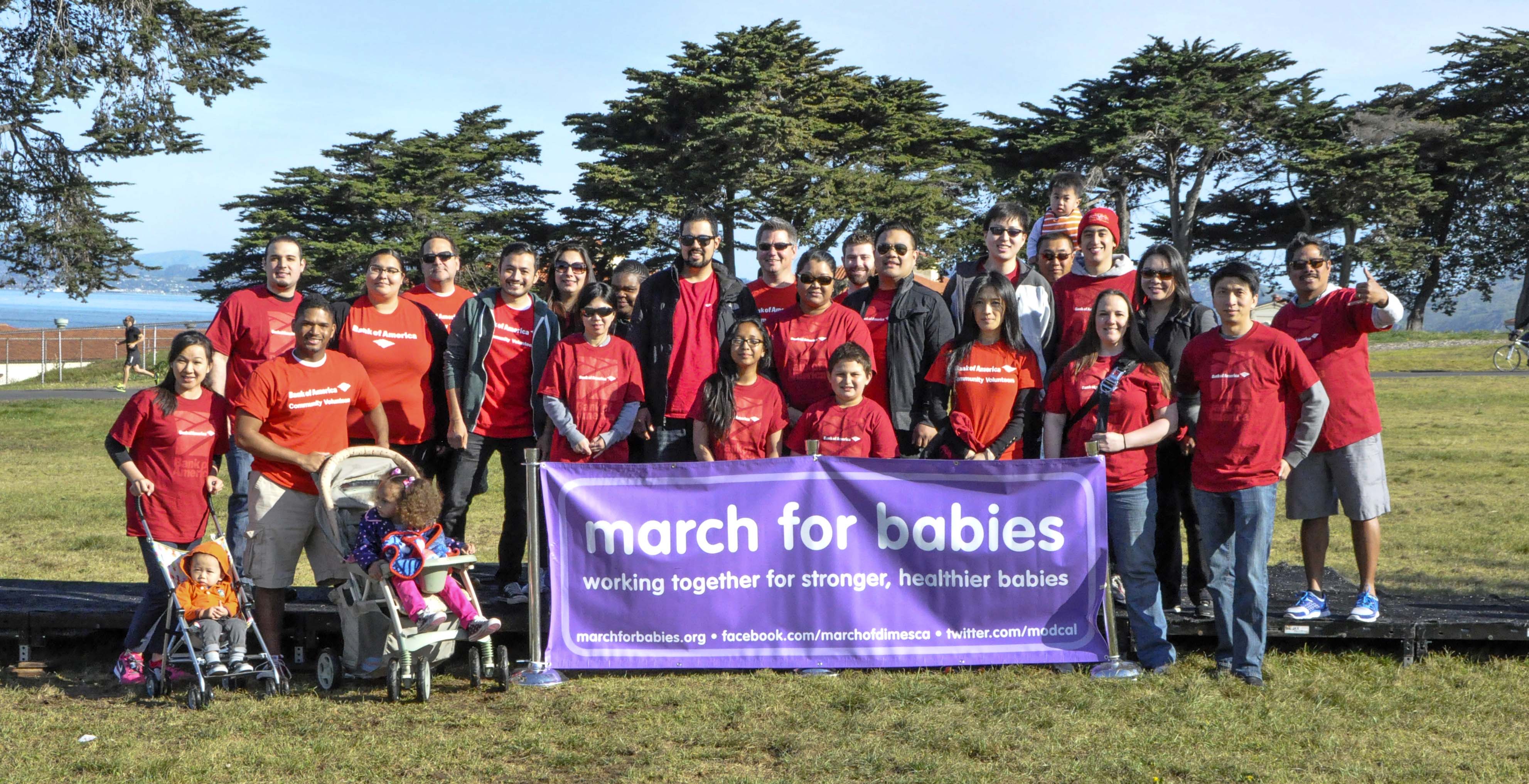 March for Babies - San Francisco 2015

Date:
Time: 9:00AM
Registration Time: 8:00AM
Fort Mason, Great Meadow
2 Marina Blvd
Bay at Franklin
San Francisco, CA 94123

March for Babies is on Rain or Shine!
Your March for Babies event will take place rain or shine.
We look forward to seeing you there on behalf of the moms and babies.
Put your walking shoes on and join all the teams and individuals who care about stronger, healthier babies!
Premature and sick babies still need our help, so remember to bring your sponsor form. If you have donations from family, friends and co-workers, we will be on hand to collect them for you.
If you are unable to attend, keep the cash and checks in a safe place and call our office to make arrangements to collect your donation.
Thank you for being a part of March for Babies and for giving hope to families everywhere!



Join this year's March for Babies Chair, Karla Lee SVP San Francisco Area Executive at Bank of America at March for Babies San Francisco. We start and finish at the Great Meadow at Fort Mason. It is arguably the most beautiful walk in the country. We start this scenic 6 mile walk along the coast line with the majestic view of the Bay and the Golden Gate bridge. We walk along Crissy Field, the beach and arrive back at the picturesque Fort Mason, Great Meadow for a fun-filled celebration lunch and family friendly activities!

Pets are welcome. Parking is provided at no charge. Parking is available at Marina Middle School, 3500 Fillmore St, San Francisco, CA 94123. This is just a short walk away from the Great Meadow at Fort Mason!

It promises to be a fun day out with people who share our passion for improving the health of babies. There'll be family teams, company teams and people walking with friends - it's a great feeling knowing we're all helping real families. Join our event and walk with us to raise money for babies right here in our community!



Join us at San Francisco, San Francisco!
Join a team or start your own. We look forward to seeing you there!
By car from Bay Bridge:
Take I-80 to 101 North. Follow 101 North to the Mission Street exit and take a right. Follow Mission and take a left on Van Ness. Then take a left onto Bay Street. Entrance is at the corner of Bay and Laguna.

By car from Golden Gate Bridge:
Take 101 South and then go east on Marina Boulevard. Take a right on Laguna and a left on Bay.
Entrance is at the corner of Bay and Laguna.

Parking is provided at no charge. Parking is available at Marina Middle School, 3500 Fillmore St, San Francisco, CA 94123. This is just a short walk away from the Great Meadow at Fort Mason!

Pets are allowed.

Upcoming Construction Projects or Events
CPMC Hospital Tunnel Construction Project
The second 72-hour closure of Van Ness Avenue for the construction work of the new California Pacific Medical Center (CPMC) is tentatively scheduled for next Friday, April 24, 2015.
Contractor for the new medical center will construct an underground passage way from the east side to the west side of Van Ness Avenue. This pedestrian tunnel will connect the future hospital with an adjacent medical office building.
The construction work will require a street closure of Van Ness Avenue between Geary and Post streets.
During the street closure, traffic will not be allowed with an exception of vehicles from Muni, Golden Gate Transit and emergency first responders. Local drivers will have access inside the central detour zone along Van Ness Avenue between Pine and Ellis streets.
Southbound traffic on Van Ness Avenue will be diverted beginning at Broadway Street and ending at Sutter Street.
Northbound traffic on Van Ness Avenue will be diverted beginning at Golden Gate Avenue and ending at O'Farrell Street.
Motorists travelling to the area are advised to allow extra travel time and to follow signs for traffic detour.
During street closure, the following Muni routes will be affected:
• 47 Van Ness
• 49 Van Ness-Mission
• 90 Owl

Other locations: